Lake St. Clair Smallmouth Bass Guide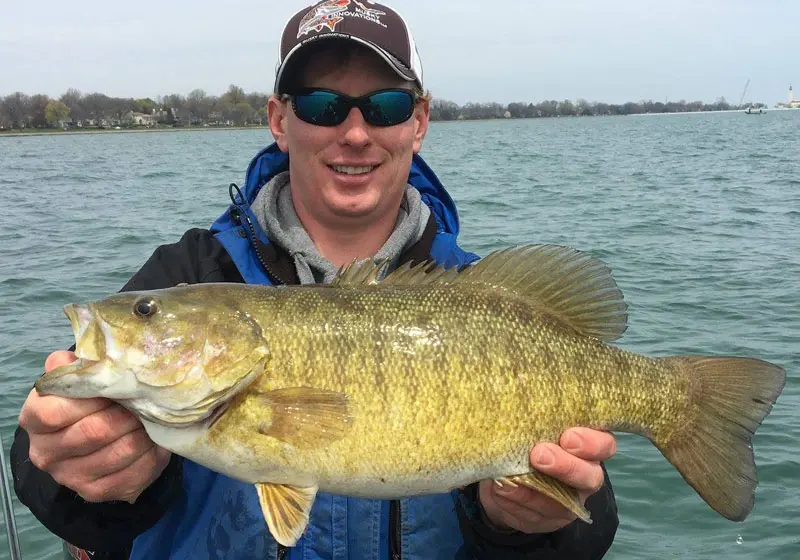 The Lake St. Clair smallmouth bass population has long been know to be one of the best smallmouth fisheries in the nation. In the last twenty-five years the introduction of invasive species such as zebra mussels, gobies and rusty crawfish have all drastically helped the lakes smallmouth bass fishing. The zebra mussels cleaned the water in Lake St. Clair allowing fish such as smallmouth bass, which are predominately sight feeders, to hunt much more effectively. On the other hand, the gobies and crawfish both became staples in the diet of Lake St. Clair's smallmouth bass population greatly increasing the weights of the fish. These environmental factors, combined with the dedication of the lakes anglers to catch and release fishing, have made Lake St. Clair one of the best smallmouth bass fisheries in the world. Bassmaster Magazine ranks the best bass fishing lakes in the world every year and Lake St. Clair always ends up near the top with several number one rankings.
---
Catching Big Smallmouth Bass in Lake St. Clair
The amazing bass fishing on Lake St. Clair combined with its lack of structure has made it a prime spot for hiring charters. If you are looking to set up a Lake St. Clair smallmouth bass charter you should expect an amazing fishing experience with both good numbers of fish as well as great size. Smallmouth in the 5-6 pound range are fairly common in the spring with average fish falling around 3 pounds, a truly incredible average for smallmouth fisheries. Along with good numbers and great size, these smallies fight pound for pound better then any other freshwater fish. Additionally you will notice that when you hook up with them in an open water bowl such as Lake St. Clair they have even a little more zip due to their extremely transient nature causing them to swim massive amounts every year.
The primary techniques for our Lake St. Clair smallmouth charters at Spencer's Angling Adventures vary depending on the time of year. In late April and early May we see the smallmouth of Lake St. Clair up shallow in a prespawn mode. At this time the fish are very aggressive and we usually catch them on a variety of fast moving baits. Traditionally this time of year when the water is stained these Lake St. Clair bass tend to prefer rattle traps and crankbaits. On the other hand when the water is clean jerkbaits usually get the nod. As the water continues to warm in later May, we usually see the bass beginning to bed down. Once this happens we move in shallower, usually 3-6 foot, and target them using mostly drop shot rigs. These allow us to work over the shallow mossy bottom without fouling our baits. After the spawn takes place we start to see these Lake St. Clair smallmouth heading to 9-12 foot of water. At this point the fish begin to eat heavily trying to put back on the weight they lost during the spawn. This time of year on our Lake St. Clair smallmouth charters we usually see the best action on tubes however on some day's jerkbaits and crankbaits can be very good as well.
The summer months see the smallies out in the open water areas normally around sand bottom areas. Here we normally target them using a combination of drop shot rigs and tubes depending on the bottom content.
Here at Spencer's Angling Adventures we are happy to offer the best Lake St. Clair smallmouth bass charters out there. Additionally we are happy to offer our clients bass and walleye combo trips the entire month of May. These trips truly get you the best of both worlds including amazing Detroit River walleye action in the morning followed up by a fresh fish walleye lunch and then an afternoon of Lake St. Clair smallmouth. Typically on these combo trips we start out around 6 AM on the Detroit River targeting this legendary walleye fishery. Normally we can have our limit (6 walleye per angler) in less than two hours and often achieve it in as little as 30-45 minutes. At that point, it's up to our clients if they want to continue walleye fishing for a bit or go straight to smallmouth. Normally after walleye our clients choose to go back to the dock where we can clean a few walleye and go in to Sindbad's restaurant (located in our marina) where they will cook up your catch. After an amazing meal we then head back out to Lake St. Clair and spend the afternoon chasing smallies. After several hours of great walleye action we head back to the dock where you pack up your freshly caught/cleaned walleye and head home with a pile of fresh Detroit River walleye and some great Lake St. Clair smallmouth memories! Don't miss out on your chance to experience the amazing Lake St. Clair smallmouth fishing for yourself!
HOURS
---
Monday
7:00am - 8:00pm
---
Tuesday
7:00am - 8:00pm
---
Wednesday
7:00am - 8:00pm
---
Thursday
7:00am - 8:00pm
---
Friday
7:00am - 8:00pm
---
Sat. & Sun.
7:00am - 8:00pm