Detroit River Walleye Charters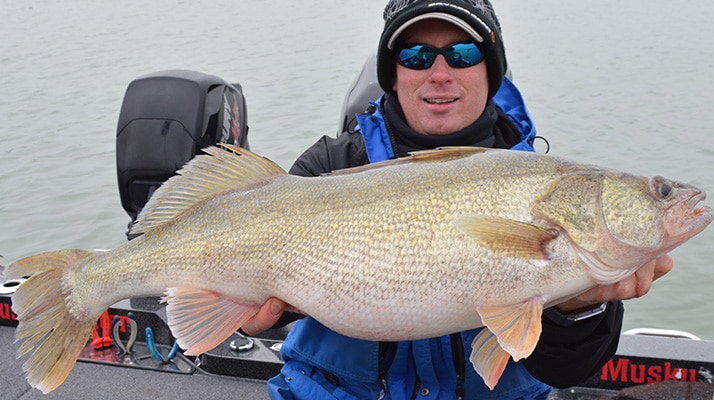 $450-$475 - 5 Hour Walleye Trip on the Detroit River – up to 3 clients
$600-$650 - 7 Hour Walleye Trip on the Detroit River – up to 3 clients
$825-$875 - 10 Hour Walleye Trip on the Detroit River – up to 3 clients
**Trip price variance is based on which Captain you fish with and the size of the boat he fishes out of.
For your trip, a 4th and 5th client can be added for an additional $100 each.
Fish cleaning is included in the price!
PEAK TIMES: Late March to early July
The Detroit River walleye run in the spring is world-famous and often considered the largest walleye migration in the world. We target these Detroit River walleye vertical jigging meaning our clients get to work the baits themselves, feel the strikes and set the hook. Our Detroit River walleye charters give you the chance at both Giant walleye and great numbers of fish to take home for the table. Each spring during the Detroit river walleye run we see tons of 10 pound plus walleye hitting the deck with multiple 10+ pound fish in a day happening every year. Right now the numbers of fish in this fishery are at an all-time high so the numbers of walleye you can expect on your charter are phenomenal. We expect to limit out (5 or 6 fish per person depending on area) on every trip with 100 plus fish trips happening every year. On all these trips we clean our catch and send each of our clients home with his or her limit of Detroit River walleye ready for the table.
HOURS
---
Monday
7:00am - 8:00pm
---
Tuesday
7:00am - 8:00pm
---
Wednesday
7:00am - 8:00pm
---
Thursday
7:00am - 8:00pm
---
Friday
7:00am - 8:00pm
---
Sat. & Sun.
7:00am - 8:00pm