Detroit River Walleye Guide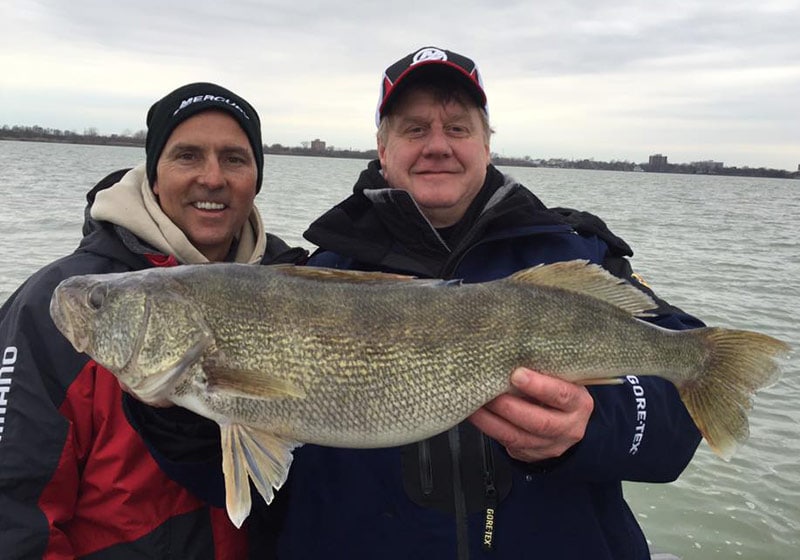 In the spring, the Detroit River sees the biggest walleye migration in the world take place with million upon millions of Lake Erie walleye pushing up the Detroit River to spawn. Since Lake Erie is easily the most prolific walleye lake in the world it is no surprise that such an astonishing number of walleye push into Lake Erie's biggest water inflow, the Detroit River. The Detroit River provides over 95% of the water in Lake Erie and it is this extreme flow that attracts these spring walleye that are programed to swim up current in the springtime to spawn.
When you are looking at booking a Detroit River walleye charter there are a couple of different things you should consider. First of all unlike to many of the other prime walleye waters, our Detroit River walleye bite is all vertical jigging rather then trolling. This means you will get to work the lures, feel the strikes and set the hook on these giant walleye. Another major factor when looking at your Detroit River walleye charter is the time of year. The walleye run goes in a progression with the fish size and numbers going up and down. In the beginning of the run, typically the last week of March and first week of April, we see slightly lower numbers of walleye getting caught however the size average of the fish is off the chart with very good chances at 10 plus pound fish up to nearly 17 pounds. As April progresses we see the number of fish going through the roof as the mass of walleye flood into the river from Lake Erie. This time of year its common to hit our limits within the first hour or two of your trip with some limits coming as quick as 30 minutes. Once we get our limit at Spencer's Angling Adventures in Harrison Township we encourage our clients to continue fishing, if they please, and simply fish for the sport or in hopes of getting another trophy walleye. In May the walleye numbers are off the charts with limits on almost 100% of our trips, however our chance at a 30+ incher are definitely down from April with the big females filtering back into the lake. Despite the slightly lower size the "eater" size walleye will certainly keep you busy with 100 plus fish half day trips being commonplace.
Prime Walleye Fishing in Harrison Township
Although many people think the walleye run begins to slow down in June nothing could be further from the truth. We normally see great walleye fishing on the river at least half way through the month and often times till the 4th of July.
When it comes to presentation for your Detroit River walleye charter at Spencer's Angling Adventures in Harrison Township we have a couple of top bait options depending on the conditions. Due to the extremely fast current, normally seven plus miles per hour, we tend to use heavy jigs typically 5/8 oz. to 1.5 oz. When we are fishing shallower water usually 8-20 ft. obviously the lighter jigs work best and when we are in deeper water 20-50 ft. the heavier jigs get the nod. On the lead head jig we usually place a 3-5 inch plastic fluke or worm as well as a stinger hook to help with the quick biters. During the colder water period of the run a live/dead minnow can also be added to give the jig more action as well as some scent.
All of our Detroit River walleye charters leave out of Sindbad's Marina on the north side of Detroit. Our boats are kept in their dock and are perfectly located to have great access to a lot of the prime walleye spots. On all of our Detroit River Walleye Charters we provide fish cleaning services free of charge to our clients. The walleye limit on the Detroit River is 6 per person on the Canadian side and 5 per person on the American side depending on where we choose to fish that day. Either way that means you will definitely come home with a pile of delicious walleye. In addition to cleaning and bagging your fresh walleye we also encourage our clients to take a couple of the fish into Sindbad's restaurant (located at the marina) where they can have their fresh walleye cooked in a manner of their choosing for less then $10 a person! There is truly nothing better then fresh walleye and going from in the river to on the table in less than two hours is literally as fresh as you can get.
No matter what time of year you choose to come, the Detroit River walleye run definitely doesn't disappoint. Whether you're a novice angler or a tournament pro you will find our Detroit River walleye charters top notch with all the best equipment and patience to get you on your walleye hot streak! Be sure to book your Detroit River Walleye charter with us at Spencer's Angling Adventures in Harrison Township today!  
HOURS
---
Monday
7:00am - 8:00pm
---
Tuesday
7:00am - 8:00pm
---
Wednesday
7:00am - 8:00pm
---
Thursday
7:00am - 8:00pm
---
Friday
7:00am - 8:00pm
---
Sat. & Sun.
7:00am - 8:00pm