Lake St. Clair and Detroit River
Walleye & Bass Combo Charters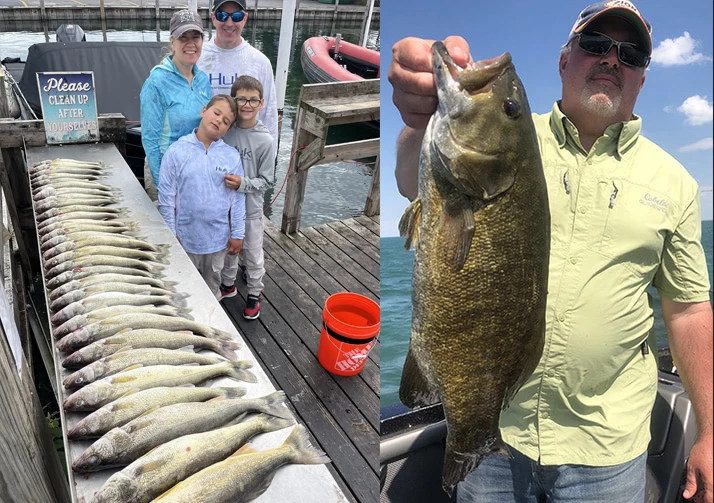 $875 – All day 10 hour trip on Lake St. Clair and Detroit River – up to 3 clients
A 4th client can be added for an additional $100.
(Rate is total, not per person)
Fish cleaning for the walleye is included in the price!
PEAK TIMES: Late April to Mid June
Our Walleye & Bass Combo Charters are our most popular option for late April to early June charters. On these charters we start in the Detroit River for walleye. Normally this time of year we can get limits (5 fish per person in Michigan or 6 fish per person in Ontario) of Detroit River walleye pretty quickly. Normally we choose to fish the morning walleye window out even after we have our limit however it is always up to our clients how much time you want to spend fishing for each species. Once we finish up with the walleye normally in late morning we head back to the dock to put the fish on ice. At this point it is up to our clients if you want us to clean some Detroit River walleye right there on the dock for an amazing fresh walleye lunch at Sindbads restaurant located at our marina. Next we head out of the Detroit River and up to Lake St. Clair for some amazing smallmouth action. After these hard fighting smallies bend your rods for a few hours we head back to the dock where our clients get to leave with their limit of walleye as well as some great memories of the giant Lake St. Clair smallmouth bass they landed.
HOURS
---
Monday
7:00am - 8:00pm
---
Tuesday
7:00am - 8:00pm
---
Wednesday
7:00am - 8:00pm
---
Thursday
7:00am - 8:00pm
---
Friday
7:00am - 8:00pm
---
Sat. & Sun.
7:00am - 8:00pm