Lake St. Clair and Detroit River Musky Trolling Charter Rates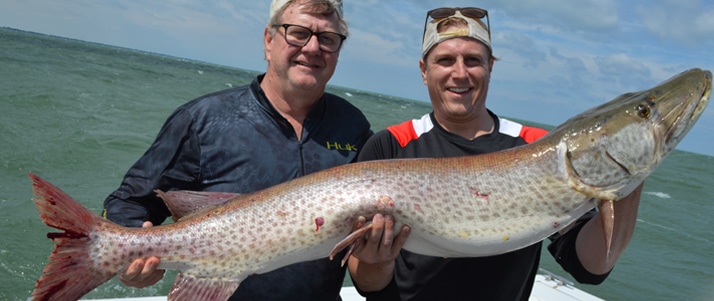 31 ft Tiara Trolling Boat Rates
$700 for 6 Hours Charter
$850 for 8 Hour Charter
$1200 for 12 Hour Charter
$1400 for an Ultimate trolling charter (See description below)
All of these trips the rate is for up to 5 clients NOT per person
PEAK TIMES: June to October
Lake St. Clair is without a doubt the premier musky trolling lake in the world. Due to its large and structure less layout it is perfectly set up for large scale trolling operations. On these trips we utilize larger boats specifically set up for musky trolling charters on Lake St. Clair. These boats can run as many as 14 lines at a time to put these giant Lake St. Clair muskies in the boat. We have three 31 foot Tiara trolling boats equipped to run these trips. They can all handle up to 5 clients with a 6th being an option if needed. During all of these trips the boats are set up with a Captain and a First Mate to run all the rods and help put those Giant Lake St. Clair Muskies in the boat for our clients.
Due to the number of lines and the ground these boats cover the average number of fish each trip is amazing by any musky standard. On all day trips last year we averaged 12 Lake St. Clair muskies in the boat with 1 over 50 inches in the boat per trip!

---
Ultimate Trolling Charters
Over the last couple of seasons, Capt. Jason Quintano and I have gotten a ton of requests for big boat trolling trips where both of us are on board as Co-Captains. I have done these trips upon special request and they have been a huge success. Now we have decided to offer our clients these trips. They would take place on a 30 ft. trolling boat and would be all day trips, normally 12-14 hours on the water.
Last season Jason and I averaged 15 muskies a day on these trips with an incredible average of 1.5 fish over 50 inches in the boat per trip! Due to the high demand of our regular trips only certain days will be set aside for these trips. Please get in touch with me quickly to reserve your chance at the ultimate musky trolling experience.
HOURS
---
Monday
7:00am - 8:00pm
---
Tuesday
7:00am - 8:00pm
---
Wednesday
7:00am - 8:00pm
---
Thursday
7:00am - 8:00pm
---
Friday
7:00am - 8:00pm
---
Sat. & Sun.
7:00am - 8:00pm