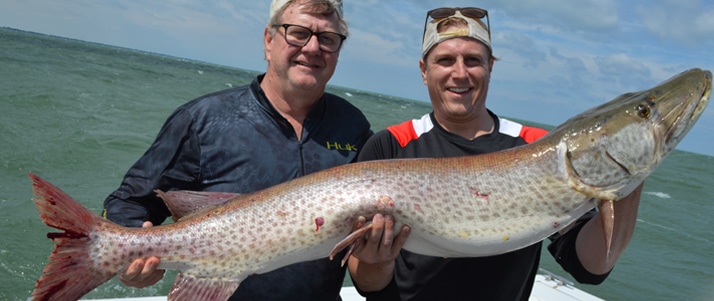 Lake St. Clair and Detroit River Musky Rates
$550 per day for one or two clients for 8-11 hours
$700 for three clients - If your group is bigger than three clients we have multiple guides running trips under the Spencer's Angling Adventures umbrella therefore we can handle groups of any size.
(Rate is total, not per person)
A $200 deposit will be requested per day that you book.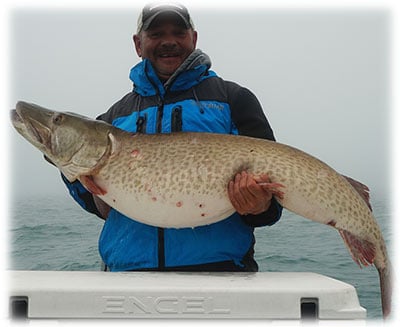 On a lake as large as Lake St. Clair there are always going to be a ton of different variables especially wind and weather. For that reason I really encourage all of my clients to book multiple day trips especially when traveling a distance to get here. By booking multiple days it really puts the odds in your favor of going home with a trophy fish even if the weather does not cooperate for one day. These days are loosely based on an eight hour day, however it is common to fish longer hours if the clients wants.
All of these prices are for two fishermen (not per fisherman but total). We can accommodate a third fisherman however we do charge an additional $150 for the 3rd angler.
---
Bass & Walleye Trip Options
Walleye Trips (Rate is total, not per person)
Late March till June 20th
Captain Spencer Berman running 22 foot Ranger 622 with 400 Verado
$475 - 5 Hour Walleye Trip on the Detroit River – 1-3 clients
$625 - 7 Hour Walleye Trip on the Detroit River – 1-3 clients
$875 - 10 Hour Walleye Trip on the Detroit River – 1-3 clients
For either of these trips a 4th and 5th client can be added for an addition $100 each.
Captain Alec Pascua running a 2025 Lund Impact with a 200 Pro XS Mercury
$425 - 5 Hour Walleye Trip - up to 3 clients
$575 - 7 Hour Walleye Trip - up to 3 clients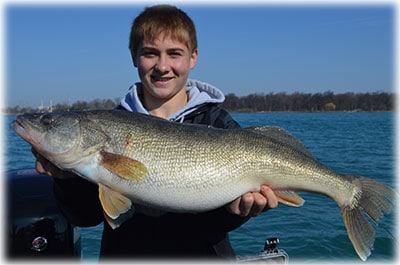 For all our walleye trips fish cleaning is included in the rate and is not part of your fishing hours. For example, the 5-hour trip is 5 hours of the fishing dock to dock then fish cleaning after.
---
Bass Trips
$400 for 5 hours for 1 or 2 clients
$525 for 7 hours for 1 or 2 clients
$725 for up to 10-12 hours for 1 or 2 clients
A 3rd angler can be added for an extra $100.
---
Bass and Walleye Combo Trip
$675 – 8 hour trip on Lake St. Clair and Detroit River – up to 3 clients
$825 – All day 10-12 hour trip on Lake St. Clair and Detroit River –up to 3 clients
A 4th client can be added for an additional $100.
On these days we start in the Detroit River for walleye. Normally this time of year we can get limits (6 fish per person) of walleye quickly. After a few hours of walleye fishing, we will leave the river and target smallmouth on Lake St. Clair.
---
Cancellation Policy
If your trip is canceled due to bad weather then you will be given the opportunity to either receive a refund on your deposit or reschedule your trip and rollover your deposit. This decision can ONLY be made by the captain of your trip. Weather conditions such as rain is not cause to cancel a trip. Cancelations are extremely rare with no more than three to five days per season being canceled due to weather. On the other hand, if you choose to cancel your trip due to a personal, work, financial or other issue including ALL COVID-19 complications (Except on our end) the deposit will be kept and the remaining additional funds are owed to Spencer's Angling Adventures depending on the situation and the amount of notification.
When it comes to cancelations the whole key is the amount of notice we are given. Our demand is extremely high so as long as we have enough notice moving schedules and issues are not the end of the world and we are happy to work with clients as much as possible. However, once we get within 21 days of your trip we start to have more issues finding people to fill the dates which is why we have our cancelation protocols. If you cancel with more than 21 days' notice you will have the choice to either have your deposit refunded or transferred to another date. If you cancel within 21 days you are eligible for a refund of up to 50% of your deposit depending on my ability to reschedule that day. The other 50% of your deposit will be forfeit and will be used to cover our time needed to try to make all the calls, texts, and emails needed to hopefully find a replacement client. If you cancel your trip within one week of your first scheduled day you are responsible for the full cost of the trip. If we are able to rebook the trip at full price we will refund half of your deposit as well as any additional funds you have put toward the trip.
Please keep in mind that each cancelation will be treated on an individual basis depending on the circumstances. Remember that fishing is not our hobby, it is our occupation. It is necessary for us to work nearly every day of our limited season to ensure that we can make our living. A common misconception we hear when clients cancel last minute is that they will reschedule and move the dates back later that same year thinking that it is the same. However, nothing could be further from the truth. Please remember we have roughly 240 days a year to make our living and since we book up 100% of our open dates if you cancel last minute when we do not have the ability to refill the date, the date you left is now taking away essentially 1/240th of our yearly income. You can't get that day back later in the year, it's simply gone. For that reason, we request clients take their commitment seriously, especially once we get within 21 days of our trip. If you have scheduling issues or other concerns please let us know in enough time that we can refund or move your deposit and you are not docked anything.
HOURS
---
Monday
7:00am - 8:00pm
---
Tuesday
7:00am - 8:00pm
---
Wednesday
7:00am - 8:00pm
---
Thursday
7:00am - 8:00pm
---
Friday
7:00am - 8:00pm
---
Sat. & Sun.
7:00am - 8:00pm